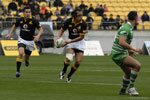 SUPER RUGBY
18 teams now compete in the Ivestec Super Rugby series (2016). originally, the Rebel Sport Super 14 was the largest Rugby Union football championship in the Southern Hemisphere and was held between rugby teams from Australia, New Zealand and South Africa. This became Super XV Rugby in 2012 with the inclusion of the Melbourne Rebels.
Super Rugby
You can view fixtures and results on the Super Rugby site - the Highlanders won the 2015 Super 15 and in 2016 the Hurricaines took the Super Rugby title.
The 2014 Super Rugby season started on 15th Feb 2014 with the final on 2 August 2014. This was won by the Warratahs over the Crusaders by 33-32.
In 2013, six teams were chosen to compete in the final playoff games. They were the Chiefs, Bulls and Brumbies (confederation leaders) and the wildcard teams, the Reds, Cheetahs & Crusaders. The 2013 tournament started on 15th Feb and ended with the final on 3rd August 2013.
In the final, the Chiefs won the tournament for the second year running by beating the Brumbies 27-22. Well done to the Chiefs!
In 2011 the Super 14 became the Super XV with the Melbourne Rebels joining the series. It also meant a change to the format.

Instead of the previous 13 games there are now 16 games in the "conferences, but 12 of each teams' games are played in their own country. The Super 15 teams are - the 5 Aussie teams (Queensland Reds, New South Wales Waratahs, ACT Brumbies, Western Australia Force and Melbourne Rebels), the 5 Kiwi teams (the Auckland Blues, Waikato Chiefs, Wellington Hurricanes, Canterbury Crusaders, and Otago Highlanders) and the 5 South African teams (Cheetahs, Stormers, Sharks, Kings, Bulls).

The top team from each conference plus the next 3 highest ranked teams (based on points) go to the 3 weeks of finals.
In week 1 of the finals, the 3rd ranked played the 6th and the 4th ranked played the 5th (eliminations). In week 2 the first ranked played the lowest ranked and the second ranked played the highest placed winner of the confederations.
It seems that this format really puts the pressure on to be one of the top 2 ranked teams going in to the finals. Hopefully it has provided you with great exciting rugby and will give you more in the future.
Support your favourite team by purchasing their Super 15 rugby gear here!!!

For New Zealand travel information, including about venue towns and regional information go to our Travel Zone pages.