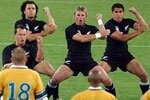 RUGBY GEAR
Support your team and buy fantastic rugby gear including Rugby World Cup memorabilia.
Check out these secure online shopping sites for purchasing your All Blacks, Lions, Springbok, Wallabies and other international rugby team gear.
Rugby jerseys, souvenir rugby balls, rugby shoes, equipment, books, DVDs and other rugby merchandise is available with international delivery from these associate sites.
Also available is gear and souvenirs for other sporting codes including cricket and rugby league. For other New Zealand shopping sites for books, travel guides, DVD's, NZ souvenirs, accommodation and transport go to the
shopping page
.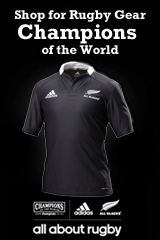 Champions of the World
Online shopping for all sports gear including rugby clothing

Buy Rugby books and DVDs online. Also Travel and other books, music and DVDs
Wide range of books DVDs and CDs on all aspects of rugby from biographies to rules and kids fiction.