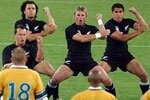 THE HAKA!!
The haka is a traditional Maori dance that has been performed by New Zealands national rugby team prior to international matches since 1888.


The Ka Mate haka has been the most widely performed by the All Blacks over the years but in 2005 at a Tri Nations match against South Africa, a new haka, Kapa o Pango was introduced. It featured a throat-slitting action which has since been modified after some complaints from the public.
The Kapa o Pongo haka is used in addition to the Ka Mate haka especially on special occasions. The words are more specific to the rugby team referring to warriors in black and the silver fern.
The Words of Ka Mate:

| | |
| --- | --- |
| Ka mate! Ka mate! Ka ora! Ka ora! | I die! I die! I live! I live! |
| Ka mate! Ka mate! Ka ora! Ka ora! | I die! I die! I live! I live! |
| Tenei te tangata puhuru huru | This is the hairy man |
| Nana nei i tiki mai | Who fetched the Sun |
| Whakawhiti te ra | And caused it to shine again |
| A upa ... ne! ka upa ... ne! | One upward step! Another upward step! |
| A upane kaupane whiti te ra! | An upward step, another.. the Sun shines!! |
| Hi !!! | |
The Words of Kapa O Pango:

| | |
| --- | --- |
| Kapa O Pango kia whakawhenua au i ahau! | All Blacks, let me become one with the land |
| Hi aue ii! | |
| Ko Aotearoa e ngunguru nei! | This is our land that rumbles |
| Au, au, aue ha! | It's my time! It's my moment! |
| Ko Kapa O Pango e ngunguru nei! | This defines us as the All Blacks |
| Au, au, aue ha! | It's my time! It's my moment! |
| I ahaha! | |
| Ka tu te ihiihi | Our dominance |
| Ka tu te wanawana | Our supremacy will triumph |
| Ki runga ki te rangi e tu iho nei, tu iho nei ihi! | And will be properly revered, placed on high |
| Ponga ra! | Silver fern! |
| Kapa O Pango, aue hi! | All Blacks! |
| Ponga ra! | Silver fern! |
| Kapa O Pango, aue hi! | All Blacks! |
For more information about the Haka and video footage, see
Tourism New Zealands Haka Feature
. (requires Flash 6 Player)