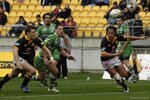 RUGBYZONE
The last World Cup for Rugby was held in England and Wales during 2015. The next one is in Japan in 2019. Apart from that there's always lots of great rugby including Bledisloe Cups, Rugby Championship, Mitre 10 Cup, Super Rugby, Heartland Rugby matches and more.

Rugby New Zealand News

The 2015 World Cup in England has been and gone and was a great tournament won by the All Blacks to become 3 time and also back to back RWC winners. Maybe they can make that 4 times in Japan in 2019?
The 2011 Rugby World Cup tournament was also great success, with some really great rugby and surpising results. The top teams were pushed hard by the lower ranked teams in many cases. After the semi finals between Wales and France and New Zealand and Australia, the finalists were France and New Zealand for a repeat of the 1987 final clash!
After a really tight game, the All Blacks won by a mere 8-7! What a result and an exciting end to a great World Cup!
For the 2011 results, visit our Rugby World Cup games and results page.
The World Cup is only held every 4 years but the new Rugby Championship, (previously Tri Nations), Bledisloe Cup, Mitre 10 Cup (previously Air New Zealand Cup) and Super Rugby tournaments are held every year. So there is lots of great New Zealand rugby to be seen all the time. International tours to New Zealand (England in 2014) and the All Blacks touring the Northern Hemisphere in November 2014 to play England, Wales and Scotland complete a very busy rugby season.

Here in the Rugbyzone, you will find useful information about all of these exciting events. Visit the games schedule page for dates and results for the main games.



If you want information about any travel in New Zealand, visit our Travelzone pages.