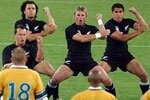 RUGBY WORLD CUP

The 2015 Rugby World Cup tournament ran from 18 September to 31 October 2015 in England and Wales. The next one is in Japan in 2019

Rugby World Cup
We are the World Champions - again!
The 2015 Rugby World Cup started in England on 18 September 2015 with the final on 31 October. It promised to be as exciting as the 2011 Rugby World Cup in New Zealand and did not disappoint. New Zealand All Blacks beat old foes Australia in the final by 34-17. South Africa beat Argentina by 24-13 to take 3rd place.
Although the opening England game was marred by refs stoppages, an early unexpected upset of South Africa by Japan certainly created a big stir and interest! Japan, having never won a world cup game before, went on to win 3 and almost made it to the quarter finals.
Other upsets were Argentina beating Ireland and making the semifinals. And of course the biggest upset of all was England, the host nation, leaving the cup in the pool rounds and not even making the quarters. Wales assisted in that exit by beating England at Twickenham in the pool patches.
Before the tournament, the All Blacks were the overwhelming 2015 World Cup favourites, with NZ on the biggest winning odds through the board. England came right after, so they were expected to put up a strenuous fight to try to snatch victory from the current cup holders, NZ. South Africa, Australia and Ireland were predicted to compete for a place in the semi-finals while France, Wales and Argentina were picked to see their dreams of victory crushed at the quarter-finals. Uruguay and Namibia were widely regarded as likely to come bottom.
The 2019 World Cup will be held in Japan in 2019 so it was great to see Japan perform so admirably in the 2015 cup. We hope it will be a great tournament in Japan. You can get more information on the official website.
In 2011, the Rugby World Cup started in Auckland with the New Zealand vs Tonga game. 200,000 people swarmed the Auckland Waterfront to celebrate the opening. More celebrated in other cities and towns nationwide. 20 teams competed in the 2011 Rugby World Cup.
There were also some big upsets during the pool games - Ireland beating Australia, and Tonga beating France! Some sensational rugby from some of the minow teams with some close shaves for the other top teams too. Wales certainly gave South Africa a run too with a 17-16 result at final whistle (SA won).
So the Quarter final places were decided - South Africa, England, Argentina and Ireland had to go home. It was France vs Wales in one semi final and New Zealand vs Australia in the other. Both big matches between old rivals.
New Zealand and France met in the final on 23 October. Final result New Zealand 8 France 7. The All Blacks were the 2011 winners of the World Cup - just!.
The 2011 World Cup was a really great tournament with great atmosphere. For 2011 results, visit our games schedule and results page.
Visit our Travelzone for travel information for any rugby in New Zealand and to help you with your travel planning.

Buy the latest World Cup and other Rugby books, here