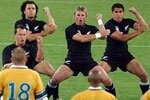 About Us

Net Action Ltd
is a specialist Web marketing company. We have been doing Web Marketing for the tourism industry since 1996, and have been involved in the travel and computer industries for much longer.
Web marketing is about "getting your web site seen" in as many places on the internet as possible. in order to increase the number of quality visitors to your web site.
We are based in the Coromandel Peninsula of New Zealand.
Our primary focus is in the Travel and Tourism industry and promoting travel to New Zealand.
We operate a number of specialist websites including
World Rugby Info
,
New Zealand Rugby Info & Travel
,
Great New Zealand Travel Guide
and
Destination New Zealand Travel Directory
.
We also have a suite of New Zealand Regional Travel sites and an events site -
Culture Vulture
.
We live and work in "paradise".
You may contact us by using the
contact form
or by phone on +64 7 866 3929.