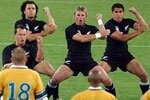 RWC TEAM HOST TOWNS
The host towns for teams during the event have been announced. More hosting dates and travel information about these towns will be posted as available.

The full 2011 Rugby World Cup games schedule is available on our Rugby World Cup games page.

For travel information throughout New Zealand, go to our Travelzone pages.

We will notify subscribers to our newsletter as we hear more about team hosting - you may like to plan your trip so that you visit a host town of your team while they are there playing or training.
You may subscribe to this newsletter for free on our newsletter page.


The 12 venue towns will of course host teams. These towns and cities are:
North Island:

• Whangarei
• North Shore
• Auckland
• Hamilton
• Rotorua
• New Plymouth
• Napier
• Palmerston North
• Wellington
South Island:

• Nelson
• Dunedin
• Invercargill
But in addition to these, 10 other New Zealand towns will also host teams for some of their stay here. These include
• Bay of Islands
• Rodney
• Tauranga/Mt Maunganui
• Taupo
• Gisborne
• Wanganui
• Masterton
• Blenheim
• Ashburton
• Queenstown

Originally it looked like teams would be based predominantly in one town. But apparently the teams will actually move around different centres during the group phases, as they indicated they did not want to be based permanently in one place.
This means that towns will not really get to "adopt a team" for the whole tournament as hoped, but instead will see more of everyone. And more New Zealand towns get to experience and participate in the World Cup atmosphere.
For example, Dunedin will host Scotland, England, Ireland, Italy, a European qualifier and a play-off winner for three pool matches to be played on September 14 and 24 and on October 2. The English, will stay for three nights (September 22 - 24), while the Irish will be in the city for seven nights (September 26 - October 2).
Queenstown will host 3 teams including England and Ireland. Taupo will host 3 teams including South Africa. Auckland, Auckland's North Shore and Rodney (North of Auckland) will host 12 teams in total. Wanganui will host USA and Masterton will host Romania. South Africa will be largely based in Wellington. The All Blacks will be based in the North Island for the tournament.

More information will be posted here as available.