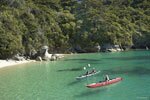 New Zealand
Activities

What to see and do while in New Zealand for rugby games. With some of the world's most beautiful scenery as your backdrop, you can enjoy a wide range of outdoor activities, tourist attractions, cruises, Maori culture, arts & crafts and world class wineries.

Find places to eat, drink and be entertained during your New Zealand rugby holiday. Or perhaps you want a venue for a wedding, function or meeting.


New Zealand is a country of great beauty and diversity - drill down to the regions above to find listings for all sorts of accommodation, transportation, tours, activities and travel deals throughout the country.

Or visit these related New Zealand categories.