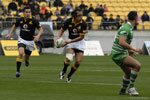 ITM CUP
The ITM Cup (previously called the Air New Zealand Cup) is New Zealand's professional domestic rugby union competition.
ITM Cup Rugby
Sorry we haven't updated this with 2015 information yet - you can view results on the ITM site
The ITM Cup was previously named the Air New Zealand Cup (until 2009), and before that the National Provincial Championship (NPC).

The top seven teams in the ITM cup form the Premiership and the bottom seven the Championship.
The 2014 ITM Cup runs from 14 August until the finals weekend of 24th and 25th October.
Counties Manukau was promoted to the Premiership for 2013 after winning the Championship final in 2012. Hawke's Bay was relegated to the Championship.
The 2013 ITM Cup was played over nine weeks beginning on the weekend of 17 August 2013.
The 2013 final was won by Canterbury against Wellington by 29 - 13. This was Canterbury's 6th Provincial title.
Teams play four teams from the other division as well as all the teams in their own division.

Table points are earned for winning, drawing, losing by seven points or less, and by scoring four or more tries.

The top eight teams at the end of the round robin then play a quarter-finals round, followed by semi-finals, and then the final.
From 2013 the winner of the Heartland Meads Cup will receive automatic promotion to the Championship replacing the 7th placed team in the Championship. The 7th placed Championship team is now relegated to the Heartland Competition.
So promotion and relegation at two levels – lots of reasons to want to be at the top!


To get ready for the ITM Cup, start supporting your favourite team by purchasing their rugby gear.

For New Zealand travel information including accommodation, activities and transport options, go to our Travel Zone pages.

For information about the main Games Venues go to our Rugby Venues page.