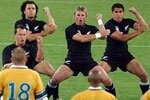 WORLD CUP
2011 GAMES SCHEDULE & RESULTS
In 2011, there were a total of 48 World Cup games in 12 different cities of New Zealand.
A full list is below.
The World Cup final was held at Eden Park on 23rd October 2011 at 9pm (NZ time) between France and New Zealand. The New Zealand All Blacks came out as the winners.
The World Cup semifinals were held at Eden Park in Auckland on 15th and 16th October 2011, also at 9pm (NZ time).
Two quarter finals were held in Wellington and two in Auckland (was meant to be Christchurch) on the 8th and 9th of October 2011.
For ticket information, please visit the
World Cup Tickets
page. For games schedules for events other than the World Cup, please visit the
Rugby Games
page.
The Pools for the Rugby World Cup games were:
Pool A: New Zealand, France, Tonga, Canada, Japan
Pool B: Argentina, England, Scotland, Georgia, Romania
Pool C: Australia, Ireland, Italy, Russia, USA
Pool D: South Africa, Wales, Fiji, Samoa, Namibia
Following the pool matches the knockout rounds are
Quarter Final 1: Ireland (Winner Pool C) 10 v Wales (Runner-up Pool D) 22
Quarter Final 2: England (Winner Pool B) 12 v France (Runner-up Pool A) 19
Quarter Final 3: South Africa (Winner Pool D) 9 v Australia (Runner-up Pool C) 11
Quarter Final 4: New Zealand (Winner Pool A) 33 v Argentina (Runner-up Pool B) 10

Semi-Final 1: Wales 8 vs France 9
Semi-Final 2: New Zealand 20 vs Australia 6
Bronze Final: Australia 21 v Wales 18
Final: New Zealand 8 v France 7
| Date | NZ Time | Teams & Scores | Pool | Stadium | City |
| --- | --- | --- | --- | --- | --- |
| Fri Sept 9 | 20.30 | New Zealand 41 v Tonga 10 | A | Eden Park | Auckland |
| Sat Sept 10 | 13.00 | Scotland 34 v Romania 24 | B | Rugby Park Stadium | Invercargill |
| Sat Sept 10 | 15.30 | Fiji 49 v Namibia 25 | D | Rotorua International Stadium | Rotorua |
| Sat Sept 10 | 18.00 | France 47 v Japan 21 | A | North Harbour Stadium | North Shore |
| Sat Sept 10 | 20.30 | Argentina 9 v England 13 | B | Otago Stadium | Dunedin |
| Sun Sept 11 | 15.30 | Australia 32 v Italy 6 | C | North Harbour Stadium | North Shore Auckland |
| Sun Sept 11 | 18.00 | Ireland 22 v USA 10 | C | Stadium Taranaki | New Plymouth |
| Sun Sept 11 | 20.30 | South Africa 17 v Wales 16 | D | Wellington Regional Stadium | Wellington |
| Wed Sept 14 | 14.30 | Samoa 49 v Namibia 12 | D | Rotorua International Stadium | Rotorua |
| Wed Sept 14 | 17.00 | Tonga 20 v Canada 25 | A | Northland Events Centre | Whangarei |
| Wed Sept 14 | 19.30 | Scotland 15 v Georgia 6 | B | Rugby Park Stadium | Invercargill |
| Thu Sept 15 | 19.30 | Russia 6 v USA 13 | C | Stadium Taranaki | New Plymouth |
| Fri Sept 16 | 20.00 | New Zealand 83 v Japan 7 | A | Waikato Stadium | Hamilton |
| Sat Sept 17 | 15.30 | Argentina 43 v Romania 8 | B | Rugby Park Stadium | Invercargill |
| Sat Sept 17 | 18.00 | South Africa 49 v Fiji 3 | D | Wellington Regional Stadium | Wellington |
| Sat Sept 17 | 20.30 | Australia 6 v Ireland 15 | C | Eden Park | Auckland |
| Sun Sept 18 | 15.30 | Wales 17 v Samoa 10 | D | Waikato Stadium | Hamilton |
| Sun Sept 18 | 18.00 | England 41 v Georgia 10 | B | Otago Stadium | Dunedin |
| Sun Sept 18 | 20.30 | France 46 v Canada 19 | A | McLean Park | Napier |
| Tues Sept 20 | 19.30 | Italy 53 v Russia 17 | C | Trafalgar Park | Nelson |
| Wed Sept 21 | 19.30 | Tonga 31 v Japan 18 | A | Northland Events Centre | Whangarei |
| Thu Sept 22 | 20.00 | South Africa 87 v Namibia 0 | D | North Harbour Stadium | North Shore |
| Fri Sept 23 | 20.30 | Australia 67 v USA 5 | C | Wellington Regional Stadium | Wellington |
| Sat Sept 24 | 18.00 | England 67 v Romania 3 | B | Otago Stadium | Dunedin |
| Sat Sept 24 | 20.30 | New Zealand 37 v France 17 | A | Eden Park | Auckland |
| Sun Sept 25 | 15.30 | Fiji 7 v Samoa 27 | D | Eden Park | Auckland |
| Sun Sept 25 | 18.00 | Ireland 62 v Russia 12 | C | Rotorua International Stadium | Rotorua |
| Sun Sept 25 | 20.30 | Argentina 13 v Scotland 12 | B | Wellington Regional Stadium | Wellington |
| Mon Sept 26 | 19.30 | Wales 81 v Namibia 7 | D | Stadium Taranaki | New Plymouth |
| Tue Sept 27 | 17.00 | Canada 23 v Japan 23 | A | McLean Park | Napier |
| Tue Sept 27 | 19.30 | Italy 27 v USA 10 | C | Trafalgar Park | Nelson |
| Wed Sept 28 | 19.30 | Georgia 25 v Romania 9 | B | Arena Manawatu | Palmerston North |
| Fri Sept 30 | 20.30 | South Africa 13 v Samoa 5 | D | North Harbour Stadium | North Shore |
| Sat Oct 1 | 15.30 | Australia 68 v Russia 22 | C | Trafalgar Park | Nelson |
| Sat Oct 1 | 18.00 | France 14 v Tonga 19 | A | Wellington Regional Stadium | Wellington |
| Sat Oct 1 | 20.30 | England 16 v Scotland 12 | B | Eden Park | Auckland |
| Sun Oct 2 | 13.00 | Argentina 25 v Georgia 7 | B | Arena Manawatu | Palmerston North |
| Sun Oct 2 | 15.30 | New Zealand 79 v Canada 15 | A | Wellington Regional Stadium | Wellington |
| Sun Oct 2 | 18.00 | Wales 66 v Fiji 0 | D | Waikato Stadium | Hamilton |
| Sun Oct 2 | 20.30 | Ireland 36 v Italy 6 | C | Otago Stadium | Dunedin |
| Sat Oct 8 | 18.00 | Ireland 10 v Wales 22 | - | Wellington Regional Stadium | Wellington |
| Sat Oct 8 | 20.30 | England 12 v France 19 | - | Eden Park | Auckland |
| Sun Oct 9 | 18.00 | South Africa 9 v Australia 11 | - | Wellington Regional Stadium | Wellington |
| Sun Oct 9 | 20.30 | New Zealand 33 v Argentina 10 | - | Eden Park | Auckland |
| Sat Oct 15 | 21.00 | SF1: Wales 8 v France 9 | - | Eden Park | Auckland |
| Sun Oct 16 | 21.00 | SF2: New Zealand 20 v Australia 6 | - | Eden Park | Auckland |
| Fri Oct 21 | 20.30 | Bronze Final - Australia 21 v Wales 18 | - | Eden Park | Auckland |
| Sun Oct 23 | 21.00 | Final - New Zealand 8 v France 7 Wow! | - | Eden Park | Auckland |