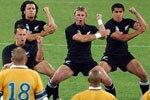 RUGBY NEWSLETTER
We produce a newsletter to keep you informed about preparations for the Rugby World Cup in New Zealand in 2011, and other rugby and New Zealand Travel. So if you want us to tell you what is happening with tickets, venues, schedules, teams, or travel options for the World Cup or other events, you should subscribe to this. We try to provide you with local information from New Zealanders.
You may subscribe for free, or unsubscribe by completing the forms below.
Your email address will remain confidential and will not be passed on to anyone else.
The latest rugby newsletter is
posted here.
More Rugby World Cup and other news is on the
Rugby News page here
.