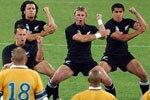 Advertising with Us
Sample listings
We operate a number of websites specifically aimed at providing tourists with great Travel and Tourism information related to their destinations. Our Rugby websites are part of this suite of sites and also provide users with specific information about New Zealand Rugby including any major tours and tournaments in 2011 and beyond. We have no affiliation with official Rugby organisations or the official Travel Agents appointed by them to offer Rugby tours to major events.
The
Travelzone
part of this site includes New Zealand travel and tourism information for independent travellers wanting to travel throughout the country.
Other sites of ours include
Great New Zealand Travel Guide
and
Destination New Zealand Travel Directory
as well as other regional sites.
Accordingly we are able to tailor an advertising package that suits you for any or all of these sites, Our aim is to give your site maximum exposure to interested web users.
We are a specialist web marketing company so our sites are ranking extremely well in search engines.
Sample listings for this site are below. Here we offer 4 types of listings, which always appear in the following order:
Premium listings - with customised banner if required.
Web Page listings - with an extra information page on this site with photos, extra text, contact information and links to your site.
Photo listings - with a photo on your directory listing to make it stand out.
Standard directory listings.
Please
contact us
for more information on our sites, and advertising or listing with us on any of them. We will be happy to provide you with pricing and listing options to maximise exposure of your business during, and beyond 2011.
Prices start at just $120 plus gst for 12 months for a standard listing on 5 websites.
Please
contact us
for detailed information.
Sample Enhanced listing (blue):
Skydive Abel Tasman
One of the highest tandem skydives! See both the Nth & Sth Islands from 16,500ft.
Enjoy a scenic flight with stunning views as you climb to altitude over snow-capped mountains, golden beaches and turquoise oceans...paradise. 16,500 ft or 13,000 ft. Experience the thrill of adrenaline fuelled freefall over Abel Tasman National Park. Individual Camera Person for DVD & Photos. We will make this your most memorable experience in NZ.
In Nelson Skydiving
Go to website >>>
default case
default case